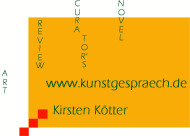 Kirsten Kötter

Site-specific Research & Artistic Participant Observation
Participant observation is a method of field research in the social sciences. I work comparably. My work connects aesthetic and sociopolitical issues. I research the contemporary way of living. My artistic work takes place in public. I record events at special locations. I stay a long time at one place. I try to understand this place by all senses. I paint abstract paintings, take photos and videos, record sound. I talk with people.

So I collect paintings as well as situation reports, photos, sketches, videos, maps and metadata. This collection of information will be published in a video and in a brochure. I wear a special cloth during work: I paint the data of the location (latitude and longitude) and time (date, time) on a piece of clothing. I wear this during the project. So my activities can be recognized by others. I ask to take pictures of me. In the photos my garment will act as a caption. I myself will be a placeholder for the viewer of the photo.

I paint with oil on fabric or canvas or I paint water colours.


Painting & Installation
Painting is the heart of my work. I also paint in my studios where time is not limited. I am interested in light and colours, combined with gesture. My motifs own a special three-dimensionality. Space is also important for me.Often I install pictures in front of the wall. Sometimes I add sound, video and objects.
All Projects (Index)
Kirsten Kötter: Site-specific Research. 2017 (PDF, deutsch / English, 32 pages, 22 MB)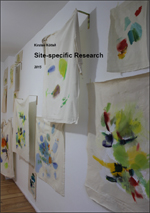 Kirsten Kötter: Site-specific Research. 1991 - 2015 (PDF, deutsch / English, 32 pages, 21,2 MB)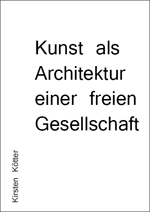 Kirsten Kötter: Kunst als Architektur einer freien Gesellschaft, 23.11.-14.12.2014, Kunstfabrik Darmstadt, Broschüre 2014, 12 Seiten (PDF, 3.14 MB)
Texte / Texts